About
Sadly, an average of one law enforcement officer is killed in the line of duty somewhere in the United States every 57 hours – more than 19,000 U.S. law enforcement officers have made the ultimate sacrifice since 1791. (see source)
In order to appropriately honor the sacrifices of the men and women of the Metropolitan Police Department of Washington, D.C. ,who have been  killed in the line of duty, an effort is well underway to build a fitting memorial.  The proposed site is next to the historic headquarters of the Washington, D.C., Metropolitan Police Department.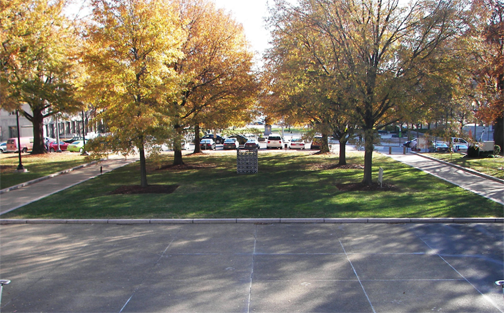 The site of the new memorial will be located on a patch of beautiful green space between the headquarters building and the city's H. Carl Moultrie Courthouse.  It will be strategically located just south of the National Law Enforcement Officer's Memorial and is only a short walk from The National Mall.
The land acquisition is nearly complete and offers a wide range of possibilities for a new, fresh and inviting memorial that will have sight lines from the former City hall (D.C. Court of Appeals), all the way down to Pennsylvania Avenue and The National Mall.
The memorial's design will enhance the space between these locales and add another attractive feature to Washington's historic Judiciary Square.